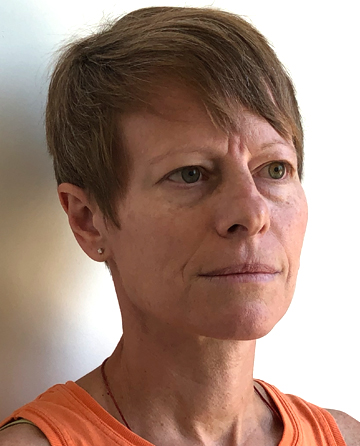 Alma Largey has been teaching yoga for the past eighteen years, with a style that combines compassion and grace with spirit and breath. She teaches a vigorous, playful, and spirited flow-style Vinyasa classes, which emphasizes breath awareness, mindfulness, and alignment.
Alma encourages her students to observe their breath and practice on and off the mat to uncover their innate truth, gentleness, and beauty. Classes are mixed level, and challenge students to develop their physical practice while widening their mental and spiritual path.
She has been certified by OM Yoga Center in New York City (200-hour) as a Vinyasa teacher and by the Himalayan Institute (500-hour) with a Hatha Yoga Certification. She is a certified Prenatal Yoga teacher by Janice Clairfield.
Alma's additional yoga studies have been with Rodney Yee (Advanced Teacher Training) and François Raoult. She has completed an in-depth program of meditation practice at The Shambhala Meditation Center, in New York. Since 2009, she is a student of the ancient teachings of the Bon tradition of Tibet, under Genyen Tempa Dukte Lama.
She has been frequently, interviewed and featured in a series of articles for the American Baby Magazine and consulted by Robin Aronson for the Whole Pregnancy Handbook. In 2008, she published "Children on the Spectrum: A Journey" a book and DVD on Yoga and Autism.
In 2006 ALMA YOGA was established in Hancock, New York; In Fall 2019, ALMA YOGA opens a second studio in Jacksonville, FL.