Bon A Khrid Dzogchen Transmission
and Practice Part III
Summer 2021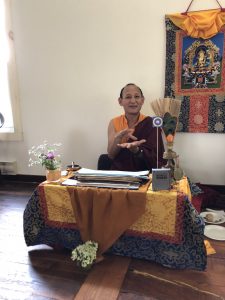 Bon A Khrid Dzogchen Transmission
and Practice Part III
Tempa Lama will continue  offering the transmission and instruction of the Heart Essence of the A Khrid Dzogchen teachings.  For this third and final Retreat in the A Khrid Cycle, Tempa Lama will first give teachings on how to distinguish between ordinary mind and the true nature of the mind.  Second he will offer an introduction to the nature of the mind.  Third he will offer instructions on how we can stabilize this recognition through practice of klong sgom, the spontaneous presence in the natural state.
The Bon Dzogchen teachings are the highest teachings of Bon as they offer a means to directly recognize the true nature of the mind and further attain stabilization of this recognition.  Bon has three distinct Dzogchen lineages: the lineage of A Khrid, the lineage of Zhang ZhungNyen Gyud, and the lineage of Dzogchen.  The present Bon A Khrid lineage is also called the experiential Dzogchen transmission.  It has been transmitted without interruption from master to student over many centuries, dating back from His Holiness 33rd Menri Trizin (who gave this teaching to Tempa Lama) to the Great Master rMe'u dGongs-mdzod (1038-1096), and before him Tonpa Shenrab, the founding teacher of Bon.
Tempa Dukte Lama is an ordained Tibetan Bon lama. He is the founder and spiritual director of Olmo Ling Bon Center and Institute in Pittsburgh, PA, and co-founder of Humla Fund. Tempa Lama is an artist and poet and author of four books, Heart Drop of the Loving Mother (2014), Journey into Buddhahood (2013), Inexhaustible Miracles (2011) and The Intimate Mind (2011).
Tempa Lama has studied the Bon wisdom teachings, practices, and rituals in Menri Monastery, India, from the age of six under the close guidance of H.H. 33rd Menri Trizin, the spiritual head of the Bon tradition. Tempa Lama is dedicated to making the ancient teachings of Bon available and accessible in the West, helping people bring a practice of compassion, healing and happiness into their lives.
Weekend Rate: $195.00*
*Rates include lunch and snacks
Retreat Schedule:
Saturday
8:30 – 9:00 am: Registration
9:00 – 9:15 am: Opening Remarks
9:15 – 12:30 pm: Practice
12:30 – 1:30 pm: Lunch
1:30 – 3:30 pm: Practice
3:30 – 4:00 pm: Tea/Snack Break
4:00 – 5:00 pm: Practice
Sunday
8:30 – 9:00 am: Arrival
9:00 – 12:00 am: Practice
12:00 – 1:00 pm: Transmission
1:00 – 2:00 pm: Lunch and Farewell
Limited Seating. Make Your Online/Mail Reservation!
Send an e-mail to almayoga@yahoo.com
Mail a personal check ($195.00)* to:
Alma Yoga
151 Palm Valley Woods Drive
Ponte Vedra Beach, FL 32082
*10% discount on all retreats offered by Olmo Ling with membership
Become a Olmo Ling member: download a printable form!
This retreat is offered at a 10% discount to Olmo Ling members. Read more about supporting us as a member here.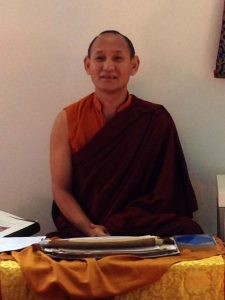 Private Meetings and Divinations 
Tempa Lama will be available for 15-20 minute private meetings on  Friday to discuss your meditation practice, spiritual path, health issues and any other questions that are important to you.
He will also be available to perform private Tibetan Divinations. The motivation for performing divinations must always be pure – done solely to bring relief for the suffering of all beings and not for one's own personal gain or fame.
 Please give from your heart . Donations appreciated. 
If you are interested in meeting with Tempa Lama, please send an e-mail to: almayoga@yahoo.com. We will contact you with the available schedule.About Tibetan Divination
Since the dawn of mankind, different methods of divination, or ways to know the past, present and future, have existed in many cultures around the world. In Tibet, various systems of divination have been used for thousands of years. Since the 8th century, when Buddhism began taking root in Tibet, these divination methods were re-framed in accordance with the laws of karma and the Buddhist principles of compassionate activity to benefit beings. According to these Buddhist divination systems, when a divination is performed, the practitioner enters into a visualization practice and invokes the energies or blessings of the deity associated with that form of divination. The practitioner is not acting as an oracle who is possessed by a deity, but rather, they are communicating with the wisdom aspect of the deity's mind, which is none other than our own deep mind.
Lamas routinely offer some form of divination as an aspect of their pastoral service.
Some more information about retreat:
– Parking is available in the rear of Alma Yoga. In order to accommodate everyone, make sure to park on a 45 degree angle, with just enough space between cars.
– If you are familiar with the area, park across the street before bridge, at public Fisherman/Boaters parking area.
– Check Revised schedule below. Please arrive prior to practice time.
– Dress comfortably.
– Alma Yoga is a "shoe free" environment.
To reach us:
– Alma: (917) 697-2776
Lodging:
Smith Colonial
23085 State Highway 97
Hancock, NY 13783-2201
$104.50 per night (tax included).
2.5 miles from Alma Yoga.
http://www.smithscolonialmotel.com/
Mountain Dell Farm
2386 Roods Creek Road
Hancock, NY 13783
10 miles, 17 minutes from Alma Yoga.
Small Cabin: $50 per night / Large Barn Room: $75 per night. Breakfast Included.
http://www.mountaindellfarmny.com/
The Inn at Starlight Lake
10 minutes drive from Alma Yoga.
$130 Single / $145 Double, plus tax and gratuity.
Breakfast included.
Mention Retreat at Alma Yoga
http://www.innatstarlightlake.com/
Solitude Inn
1670 Chamberlain Brook Road
Walton, NY 13856
2,500 square feet of living space
(3 Bedrooms ~ 2.5 Baths ~ Sleeps 8)
650 square foot wrap-around porch
More info: www.thesolitudeinn.com
Contact: info@thesolitudeinn.com
22 minutes from Alma Yoga
Eating Around Town
Hancock is a small town and some local restaurants get busy—reservations are needed at some locations!
Circle E Dinner
369 E. Front St., Hancock, NY 13783
607-637-9905
NO RESERVATIONS, CASH ONLY.
The Maple Room
At Hancock House Hotel
137 East Front Street, Hancock, NY.
Reservations: (607) 637-7100
http://newhancockhouse.com/maplerm.htm
Confections, Coffee, Conversations
The Bakery
167 E Front St  Hancock, NY 13783
(607) 637-2253
www.thebakeryhancockny.com/
UNCLEBROTHER
250 East Front Street
HANCOCK, NY 13783
http://www.unclebrother.org/
Just few miles from Hancock:
The Inn at Starlight Lake
www.innatstarlightlake.com/
289 Starlight Lake Road
Starlight, PA 18461
Reservations: (570) 798-2519