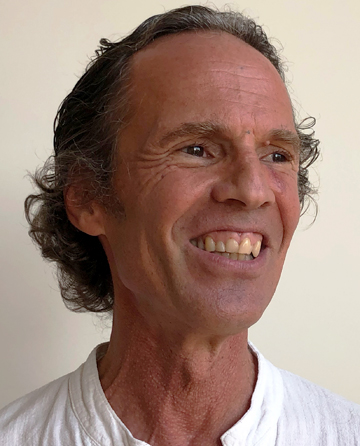 Didier has been interested in yoga and the mystical side of life since his teenage years growing up in Casablanca, Morocco. He started practicing yoga asanas and followed the books by renowned yoga teacher Andre Van Lysbeth, a Sivananda method disciple.
Didier traveled to India and Asia, and in 1985, he had the great fortune to meet his spiritual teacher Gurumayi Chidvilasananda in India. Subsequently, due to this auspicious event, he spent the next ten years living in Her ashrams in India, France, and the United States.
While living in the ashram, Didier had the opportunity to study Hatha yoga with several teachers, notably John Friend, founder of Anusara Yoga. Didier was, at one time,  an Anusara affiliated teacher. He is currently certified by the Sivananda and Sri Mahesh Schools of Yoga.
In 2000, Didier founded Two Suns Rising Yoga, a school that offers the richness of his experience, including the years of ashram life and his substantial knowledge from numerous yoga trainings. These, with his keen interest in the mystical and multifaceted field of yoga, render a comprehensive and unique yoga style.